Disinfecting agent is a liquid consumable for SITITEK BIO-2 sterilizer. The product is capable of destroying any bacteria, viruses, fungi and other pathogens. The bottle contains 30 ml of the liquid. This volume is sufficient for approximately 1 month of daily use by one person.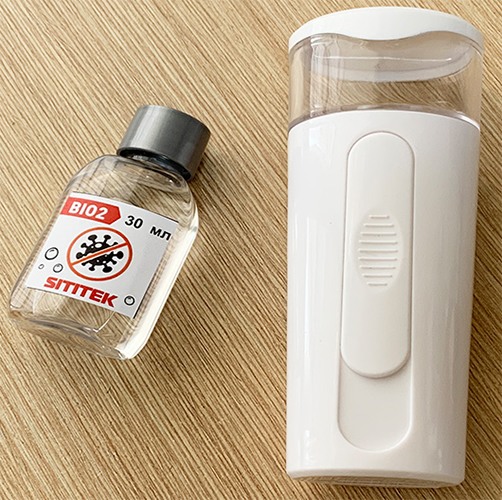 The product can be used for disinfection of:
hands;
clothes;
workplaces;
surfaces;
objects;
face masks.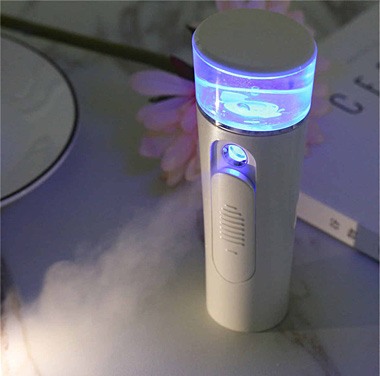 Why our disinfecting agent is the product of your choice:
High efficiency of disinfection. The product contains distilled water, ethanol and 1,5% chlorohexidine in high concentration. The agent completely destroys gram-positive and gram-negative bacteria and pathogens of TB, herpes, polio, hepatitis, AIDS as well as fungi (Candida, Trichophyton).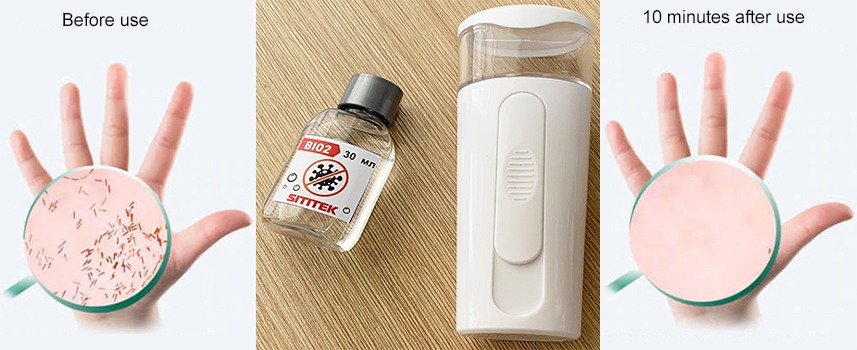 Completely safe. The product is considered to be a low-hazardous and almost non-toxic substance (substance hazard category 4). Even in case of contact with eyes, mouth or nose it doesn't cause intoxication or irritation.
Provides long-term operation of the sterilizer. This product demonstrated excellent results when tested with SITITEK BIO-2 sterilizer. We strongly recommend not to use any other disinfecting liquids or essential oils as they may cause the device to fail.
How to use
Remove the lid of the container of SITITEK BIO-2 sterilizer, unscrew the cap on the bottle, pour the disinfecting liquid and then fix the container back. The device is ready to operate immediately. When you slide down the plate that covers the outlet of the ultrasonic piezo-emitter, the agent will spray in a thin, but dense stream.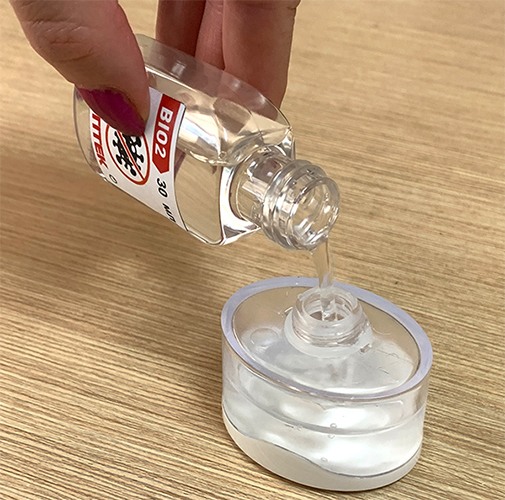 In order to thoroughly disinfect hands, clothes, face mask and other objects you need to spray the agent on objects for 1-2 seconds.
Advantages of SITITEK BIO-2 sterilizer over other hand-sprayed sterilizers:
Uniform spraying.
Tiny droplets.
Economical consumption with a dense cloud of sprayed liquid.

In the image you can see that SITITEK BIO-2 sterilizer sprays the disinfecting agent densely, forming a powerful protective layer that penetrates to all hard-to-reach corners of fabrics or surfaces. While the hand-sprayed sterilizers form large drops that are not just unevenly applied, but also roll off the surface under their weight, which significantly reduces the protective effect. Also, hand-sprayed sterilizers have a large flow rate of liquid.
Features:
Liquid volume: 30 ml;
Contents of the disinfecting agent:

1.5% chlorhexidine of high concentration (70%) (main agent)
distilled water (20%) (supplementary)
ethanol (10%) (supplementary)

Shelf life: 2 years.
Package contents:
bottle with disinfecting agent;
user manual.