Wine gift set SITITEK Vinomax comes with three practical accessories: electric wine bottle opener, wine aerator and vacuum wine preserver for open bottles.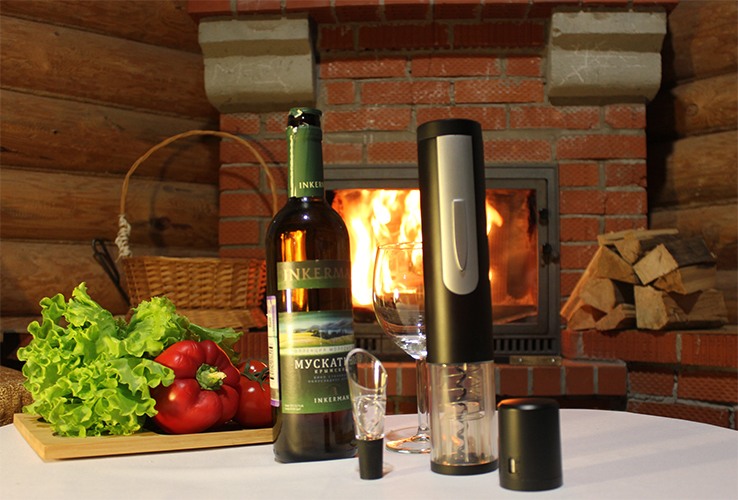 Electric wine bottle opener

This device easily uncorks traditional wine bottles in just a few seconds

Remove protective film from a bottle using a foil cutter conveniently located on the top of the opener. Place the opener on the bottleneck and make sure that its body is in an upright position during the entire uncorking process. Holding the bottle, start using the opener by pressing the lower part of the button. The opener will rotate clockwise thus piercing the cork and opening the bottle.

Wine aerator pourer

This easy-to-use item is designed to instantly oxygenate wine

You only need to put the aerator on the bottleneck and pour wine into glasses. As a result, air bubbles displace excess tannin and alcohol vapors from wine. The taste of wine becomes the same as it was when the bottle was corked.

Vacuum wine preserver

This item allows you to evacuate air from unfinished bottles thus extending shelf life of the wine

Just place the preserver on the bottle and gently press it with a palm. That is the way air evacuates. The item has a pressure scale and you should stop pumping when level "H" is reached. Then move the preserver round and set the date. This way wine keeps fresh and does not acidify under the influence of bacteria.
Delivery set:

electric wine bottle opener with a foil cutter
wine aerator pourer
vacuum wine preserver
instruction
1 year warranty and lifetime support
Technical features:
Number of accessories in the set — 3.
Wine opener power supply — 4 АА batteries (not included).
Housing materials:

Wine opener — ABS plastic;
Wine preserver — stainless steel;
Aerator — acrylic.

Dimensions:

Wine opener — 262 х 51 mm (10.31 х 2.00 in);
Wine preserver — 59 х 43 mm (2.32 x 1.70 in);
Aerator — 95 х 30 mm (3.74 x 1.18 in).

Weight:

Wine opener — 300 g (10.6 oz);
Wine preserver — 48 g (1.69 oz);
Aerator — 20 g (0.7 oz).